The perfect way to create a Father's Day he'll always remember. This limited edition box includes:
1 36 oz USDA Prime Tomahawk

2 larger than life Twice Baked Potatoes

1 serving of our Fresh Cut Jumbo Asparagus 

4 oz of our Sergio's Seasoning, made in-house for your dinner table

8 oz of our Gold Fashioned Cocktail Mix
... and more! So what are you waiting for?
Sign up for our special welcome offer
Enter your email to receive this offer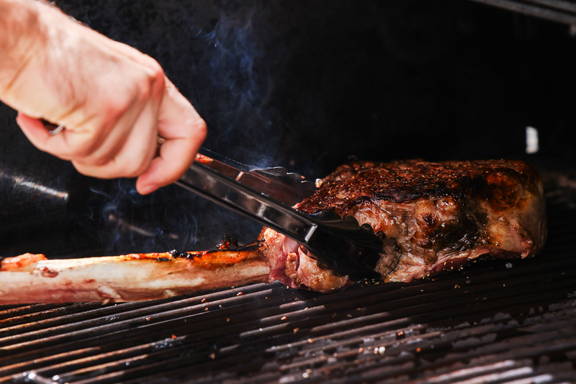 I saw an article about this kit online and was intrigued. It did not disappoint, the food was great, the packaging was above and beyond, it truly felt like an entire meal at home. I especially loved the little sides of compound butter and au jus to finish the steaks.
The Perfect Gift to Impress a Colleague
Every year I send steaks to my team and wanted to do something a little bit different so I tried the Steer Setup. Everyone was truly impressed when the boxes arrived. It was an incredibly unique experience and everyone loved all the little touches like the spotify playlist and embroidered napkins.
We ordered the Steer setup with a ribeye and a filet, maître butter, Au Jus, creamed corn and twice baked potato. Everything was excellent and we will be ordering again soon. Shipment can overnight in a nice package with napkins and music.
Love this Place - The Box Brings the Restaurant Home
I have been a longtime customer at the Golden Steer. I was so excited to see a chance to enjoy the steaks at home while I was cooped during COVID. The sides were a nice touch.